WELCOME TO SKYLINE UROLOGY

People are living longer. We want you to live better.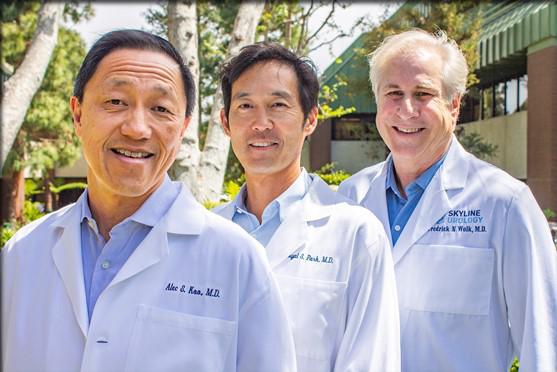 Drs. Royal Park, Alec Koo, and Fredrick Wolk are board-certified urologic surgeons at Skyline Urology in Torrance, California. The practice provides comprehensive care for all urologic conditions. For your convenience, we offer in-office imaging and lab testing to diagnose and treat your condition in a single visit. We provide medical and surgical treatments utilizing the latest minimally invasive technology.
Skyline Urology provides the most up-to-date treatments, including Rezum and Urolift for benign prostatic hyperplasia (BPH), and low-intensity shock wave therapy and PRP for men's erectile dysfunction and Peyronie's disease. We are experts in men's sexual health and treat low testosterone and premature ejaculation and can perform your vasectomy. Our cancer center of excellence is available to deliver the highest level of oncologic care for men with prostate and bladder cancer. We take pride in our expertise in helping women with their urinary issues as well.
Given the sensitive nature of urologic diseases, we are focused on providing care in an empathetic and private environment.  The doctors and staff strive to make your office experience as pleasant and smooth as possible.
Call the Skyline Urology office today or book your appointment online.
Testimonials
Words from our patients
---
"Dr. Park has been helping my dad seamlessly ease through the news of finding out that he has Prostate Cancer."
JENNIFER C. L.
"I was referred to Dr. Park and appreciated his attention to detail with my long medical history."
C. L.
"Dr. Park is a great urologist. He is honest, concise, and is very concerned about your condition."
GREENTEA C.
"I was treated for prostate cancer with radiation. The side effects were dissatisfying… GAINSWave has restored my ability to obtain and maintain an erection."
K. ANDERSON
"GAINSWave has increased my confidence. I would rate my overall experience at RESTORE as a 9 out of 10."
J. GARCIA
"My results from GAINSWave Therapy at RESTORE Anti-Aging by Doctors were 100% better than I expected. I am completely satisfied. Thank you, Dr. Koo!"
J. KISER
---
LOCATION
Skyline Urology
23600 Telo Ave, Suite 220
Torrance, CA 90505
Phone: 239-256-1468
Fax: (310) 373-7895
OFFICE HOURS
Monday         9:00 am — 5:00 pm
Tuesday         9:00 am — 5:00 pm
Wednesday   9:00 am — 5:00 pm
Thursday       9:00 am — 5:00 pm
Friday             8:00 am — 4:00 pm
Saturday, Sunday  Closed
GET IN TOUCH